Ghost Signal: A Stellaris Game Launching March 23 for Meta Quest 2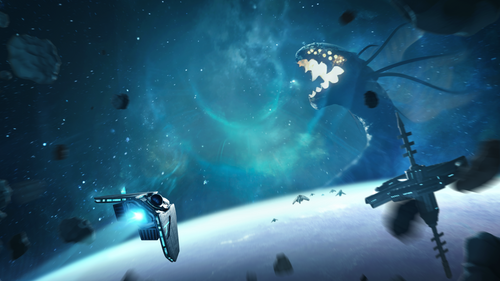 Pre-order Fast Travel Games' VR action roguelite now for $19.99
Suit up and take a look at the trailer here: Ghost Signal Launch Trailer
"As players take command of the starship Aurora for a journey into the unknown, I truly hope they get an action-filled roguelite VR experience like never before," said Christopher Smith, Lead Game Designer at Fast Travel Games. "With randomized maps, every playthrough of Ghost Signal: A Stellaris Game is different. Your survival skills will be tested, and we look forward to seeing what you find and overcome in search of the Ghost Signal."
In Ghost Signal: A Stellaris Game, captains meet various alien races, battle monstrous creatures, and engage in intense intergalactic battles. Features include: INTERSTELLAR SPACE BATTLES: Use the whole artillery of the Aurora against enemy armadas. Loot or purchase power-ups like freeze rays, atomic missiles, or even dragon companions.
A UNIVERSE FULL OF WONDERS: As captain of the Aurora, encounter strange aliens in their home worlds and enter lost temples in the pursuit of the mysterious signal that seems to defy even death.
UPGRADE & CUSTOMIZE: Scan exotic creatures for the logbook and conduct research in multiple tech trees. Asynchronous multiplayer allows captains to scavenge other players' deserted ships for valuables.
A NEVER-ENDING JOURNEY: Alongside story mode where randomized maps make every session unique, Ghost Signal: A Stellaris Game includes daily challenges with global and local leaderboards to climb.
Ghost Signal: A Stellaris Game can also be played with Hand Tracking 2.0.
For the latest information and news, follow Ghost Signal: A Stellaris Game at @GhostSignalVR on all major platforms and the official website.