VR musical sandbox Virtuoso Out Now on Quest, Rift & SteamVR!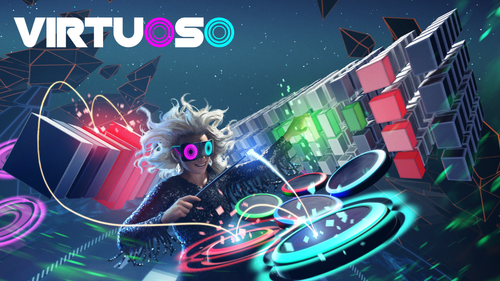 Fast Travel games has launched Virtuoso, a creative sandbox that lets anyone fulfill their musical dreams in virtual reality. Developed by Really Interactive, and the first offering from Fast Travel Games' publishing arm, Virtuoso is available on Meta Quest, Rift and SteamVR headsets for $19.99.
Enter the symphonic world of Virtuoso with an all new mixed reality trailer here
Budding VR musicians can explore and jam out on special instruments specifically designed for virtual reality. Users with all levels of musical ability - from pitch perfect producers to tone deaf newbies - will enjoy finding their own unique sound. The Looper tool will let anyone form a one person band, while the Tempo Sync feature makes sure the whole act stays on beat. Once rockers are done fine tuning their track, they can save and ship it out to the world by using built-in community sharing features.
"Virtuoso is the next evolution of creating music in a virtual space, allowing both complete beginners and seasoned musicians the chance to create and play in a brand new way." said Jonatan Crafoord, Creative Director and Co-Founder of Really Interactive. "With tools that will help new musicians stay on beat, and instruments built from the ground-up for virtual reality, there is something for everyone to use and build on to stretch their creative muscles."
Key Features of Virtuoso include:
-Be the artist of your dreams: Create music in real-time using the Looper and easily share it for all to hear! Even if you've never touched an instrument before, features like Tempo Sync and preset scales help you stay in time and on pitch.
-Made-for-VR instruments: The six instruments of Virtuoso have been created specifically for VR. Set up your own custom drum kit with the Empads and tickle the keys of the three-dimensional Oorgan. You can also add vocals with lush reverb using the virtual microphone!
-From opening act to headliner: The interactive tutorial along with intuitive instruments and tools means that everyone, from professional producers to casual music lovers, can become Virtuosos!