Cities: VR is Out Now on Quest 2!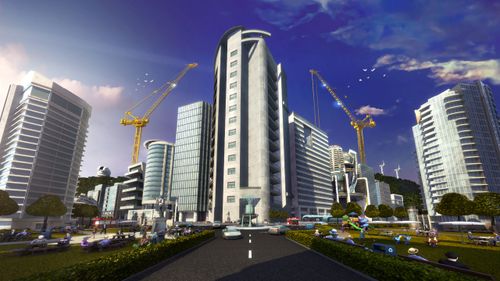 Today, Fast Travel Games announced that Cities: VR, its adaptation of Paradox Interactive's acclaimed city simulation game Cities: Skylines, is now available for Meta Quest 2. Budding 'VRchitects' can purchase the definitive VR city-builder today for $29.99 on the Meta Quest store here. Fans can also expect the free Metro & Traffic Routing update to hit in June, which will allow citizens to find their way across the Cities underground and provide Mayors with improved tools to direct the flow of traffic. Continuous improvements and free updates are being planned for the future.
Hit the (virtual) streets and watch the brand new launch trailer here
Cities: VR will provide city sim enthusiasts and future urban planners with the opportunity to design their very own metropolis in a virtual environment, plotting out roads and buildings through instinctive movements and gestures. Intuitive controls and menus have been created with ease of use in mind, making it easier than ever to play mayor in the city of your dreams. By navigating your creation in VR, players will experience a new way to balance their city's economy, emergency services, education, housing and entertainment.
"Launching a version of Cities: Skylines for VR is a major accomplishment for us as developers, and we're thrilled with what we've been able to create." said Erik Odeldahl, Creative Director of Fast Travel Games. "While we obviously took major inspiration from what the teams at Colossal Order and Paradox Interactive have created over the last seven years, we believe that what we've created with Cities: VR is a fresh experience that Cities fans new and old will love."
Cities: VR brings a new level of immersion to the simulation genre, allowing gamers to watch their creations shoot up and fill out the skyline. Visit your city and take in the hustle and bustle from street view, beginning new projects and watching buildings come alive to join the city's ecosystem. Cities: VR gives newbie mayors everything they need to ensure the satisfaction of their constituents.
Cities: VR is not a direct port of Cities: Skylines and, due to technical limitations, will not match the same size and scale of the PC version. This VR adaptation is a more intimate and focused city management simulation. Some features PC players have grown accustomed to, like terrain editing and natural disasters, are not part of Cities: VR. However, just as the PC game has been updated over the years, Fast Travel will be adding more content and features to Cities: VR post-launch.
Those starting their mayoral campaigns can grab Cities: VR on the Meta Quest Store here for $29.99. Additionally, fans can follow @CitiesVR on Twitter for updates.